What we love…
Uses total immersion method of language learning. Has real life video clips of kids, variety of activities and lessons build on previous ones
Cons …
Can only use in landscape orientation, would like to be able to use in portrait also. Buying all parts of the program can be pricey
Summary
Early Lingo Spanish is a well made program to introduce Spanish to children from 3-9 years old . It uses total immersion with video clips, interactive workbooks and flashcards
Our Rating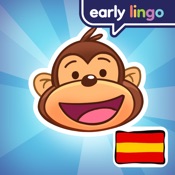 Early Lingo is a company that produces language learning educational products for children. They have produced a series of language learning DVDs since 2011 and now have their programs available via iOS apps. They currently have programs available in Spanish, French, German,  Italian, Mandarin and English.  We are reviewing the Early Lingo Spanish Language Learning for kids app. It is free to download and contains in-app purchases to unlock content. Jojo the monkey and Lulu the bird are the children's guides throughout the app. In the app there are 6 different adventures, each one targeting different vocabulary topics. Each lesson builds upon the last and reinforces previous activities. When they complete an adventure it unlocks a corresponding game.
The app uses the Total Immersion Method i.e. there is no translation. It is suitable for children from approximately 3-9 years old. In an Immersion Program kids learn the language much the same way as we learn to speak our native tongue – by seeing the language in action by native speakers. My oldest son attended a Spanish Immersion Elementary School for 6 years, and I really think the immersion model is the best way for children to learn a second language. He started Kindergarten knowing no Spanish at all and rapidly learned to understand, speak, read and write in his new language. He was taught 100% in Spanish from the first day, half of his classmates were native Spanish speakers and half native English speakers, the English speaking kids learnt what to do by watching the Spanish speaking kids. The Early Lingo app works on the same principle, it includes videos and learning activities and throughout the app the only language spoken is Spanish.
The Early Lingo Spanish app is free to download for a limited amount of content, and then you can choose to buy the six adventures individually, or as a bundle. An adventure consists of a series of video clips with learning activities in between the clips, that reinforce the vocabulary words they have just learned. There are both cartoon videos of Lulu and Jojo and real life video clips of children. Each time a vocabulary word is introduced the child not only hears the word and sees a picture or video clip that represents it, but also sees the word written on the screen.
In the first adventure Jojo and Lulu go to the park. Whilst at the park they learn about colors and things at the park, but also learn other vocabulary terms such as balloons, painter, sun, girl, apple, cookies, crackers, milk, dog, eating, drinking and playing.  After watching a video clip there are reinforcing activities in the form of an interactive workbook. There are 4 videos in the first adventure with workbook activities in between each clip. The first clip introduces colors, the second things that happen in the park such as children playing and eating, the third focuses on shapes whilst reinforcing colors and the last video expands upon the vocabulary of objects that can be found in a park such as play equipment, trees, butterflies and flowers.
The workbook exercises start very simply- touching pictures to hear the name of the object or concept, and gradually increase in complexity- such as touching a picture that matches what is said. Towards the end of the adventure the child leans to answer more complex questions such as "De que colores es?" (what color is?) "un pez anaranjado." To answer first they touch the correct object (fish) from a choice of 6, then they pick the right color (orange) from an artist palette that pops up when they correctly identify the object.
I like that each new object or concept  is presented in a variety of ways which helps generalization. The real life videos of children playing are a nice addition to the cartoon videos and still pictures. Although the app concentrates on teaching simple objects and actions these are brought together to form phrases and more complex concepts.  For instance after learning food, shapes and actions such as drawing and eating, they see  a child drawing a circle and Jojo drinking milk and hear how to describe these actions in Spanish.
As the child completes the workbook activities Jojo's face at the top of the page is gradually colored in. Once he is in full color (all activities completed for that adventure) this unlocks a learning game such as a motorcycle race where Jojo's progress depends on the child correctly identifying the named object from 3 choices.
There are also flashcards that the child can use to practice the words they have learned. For more mature learners there is also the option of creating their own vocabulary book by writing in the names of the objects in an interactive book. I did find that this didn't save well from visit to visit though- when we wrote the names initially they were under the correct pictures but when we returned to use the book later the names were written randomly across the page so we had to erase them and start again. The app appears to be only useable in portrait orientation, it would be more convenient to also be able to use it in landscape, especially as some cases and stands don't work well in portrait.
Other adventures follow a similar format, but introduce new vocabulary as Jojo and Lulu visit different locations and learn about new things. The other adventures are: Numbers & Counting at the Farm, Opposites at the Beach, Alphabet at School, At the Market (food and kitchen objects) and In the City.
The app is free to download then $3.99 to complete the first adventure, other adventures are $8.99 each, flash cards are $3.99, or  you can purchase a bundle that includes all the adventures plus flashcards for $48.99.  The full unlock of the adventures includes over 450 words and phrases. For each adventure there is also an option to purchase a longer video version (which are the same as the DVDs sold via the Early Lingo website). They are the same videos that are featured within the apps, just in longer format. These cost $10.99 each or $54.99 for the bundle (we did not test the full length videos.)
Overall, I really like the immersion method of language learning for kids. I think Early Lingo Spanish provides a good introduction to Spanish for kids in pre-school and early elementary school. It has a good range of videos and interactive activities and I like how the concepts are reinforced and built upon as the adventures progress.  It can get pricey by the time you have bought all the adventures, especially if you also buy the full length videos. It can also be a little tricky working out what is included in your purchases, so it would be nice to see the addition of a separate locked parents area (in English) that explains everything included in the app and the purchasing options with links to buy them. If you have a child in the target age range that you would like to introduce to Spanish, my recommendation is to download the free content and try it with your child. If they enjoy the content I would pay the $3.99 to unlock the first adventure, after your child has completed that you can decide if they are enjoying it enough to invest in the rest of the adventures.
iTunes Link: Early Lingo Spanish Language Learning for Kids – Early Lingo

Spanish Series

by Early Lingo
Category: Education, Games, Trivia, Word
Requirements: Compatible with iPad2Wifi-iPad2Wifi, iPad23G-iPad23G, iPadThirdGen-iPadThirdGen, iPadThirdGen4G-iPadThirdGen4G, iPadFourthGen-iPadFourthGen, iPadFourthGen4G-iPadFourthGen4G, iPadMini-iPadMini, iPadMini4G-iPadMini4G, iPadAir-iPadAir, iPadAirCellular-iPadAirCellular, iPadMiniRetina-iPadMiniRetina, iPadMiniRetinaCellular-iPadMiniRetinaCellular, iPadAir2-iPadAir2, iPadAir2Cellular-iPadAir2Cellular, iPadMini3-iPadMini3, iPadMini3Cellular-iPadMini3Cellular, iPadMini4-iPadMini4, iPadMini4Cellular-iPadMini4Cellular, iPadPro-iPadPro, iPadProCellular-iPadProCellular, iPadPro97-iPadPro97, iPadPro97Cellular-iPadPro97Cellular, iPad611-iPad611, iPad612-iPad612, iPad71-iPad71, iPad72-iPad72, iPad73-iPad73, iPad74-iPad74, iPad75-iPad75, iPad76-iPad76
Size: 2265.55 MB

$45.99USD
Screenshots for iPad
(Click to enlarge)


NOTE: A fee was received to expedite this review to the top of our waiting list but this payment has not influenced the objectivity of the review and all opinions have been offered honestly.
Mary is originally from England but now lives in California with her husband, dog, cat and three children. Mary and her family love Apple products and own an iPad2, iPad3, iPad Mini, iTouch, iPhone5 and several MacBook Pros. They also love cub scouts, skiing, camping and hiking. The family iPads are also used for therapy for their daughters Apraxia (speech disorder).